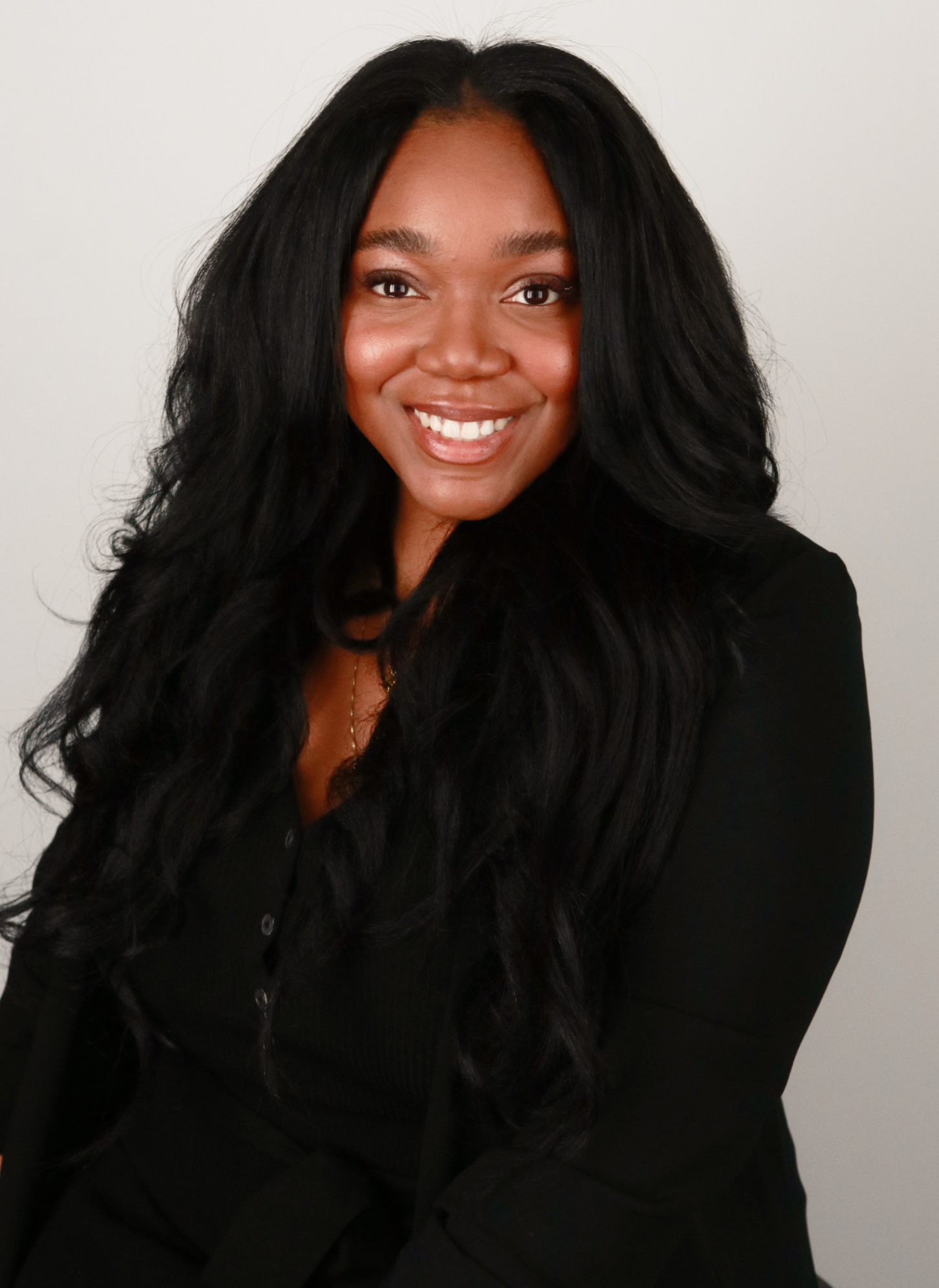 Chloe Cauley
UX Researcher
Redesigning Reliant's Product Chart for Usability
Millions of visitors with one common task, keeping their lights on
Starting with the past
I was tasked to evaluate the usability of Reliant/NRG's product chart. Where millions of prospects went to choose an electricity plan to light their home with for the next 1-5 years.
Because this was a legacy design, I started with past heuristic evaluations to discover whether or not previous usability and content comprehension issues had been solved or still carried over to the present-day iteration.
Past Usability Evaluations showed a clear line to the current-day design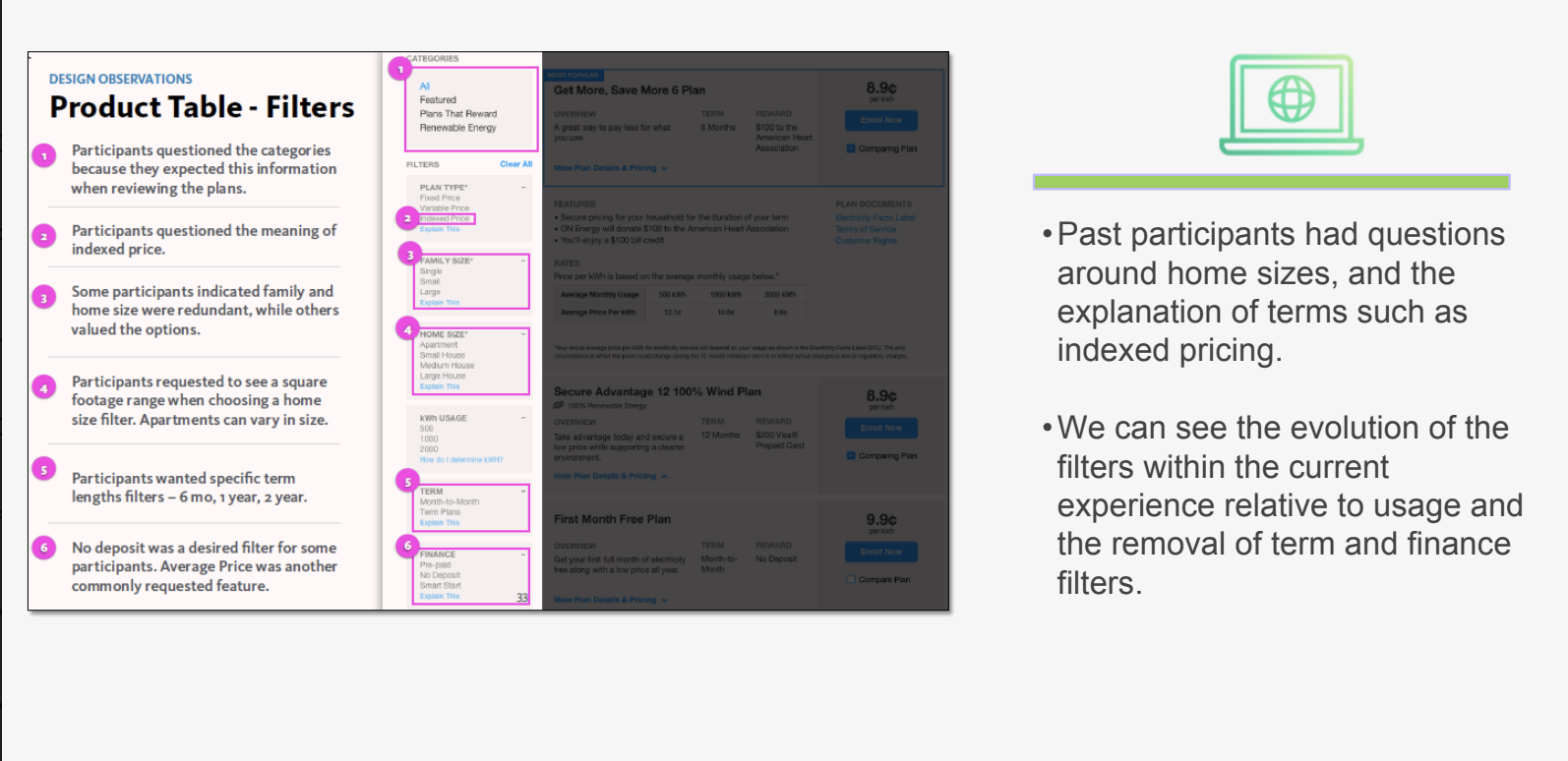 User Testing
Using this past as a benchmark, I tested the current version of product chart with a group of 10 participants within the targeted areas. All participants were asked to place themselves in the scenario going online to look for a plan that fit them and their home.
Key Insights:
Nearly all participants stated they did not know or understand their electricity usage. A few suggested telling them how they would get that information or where to look; or, better explaining what exactly usage is.

Nearly all participants agreed that the plan and plan information looked "clean and simple," but lacked visual appeal.

A few participants referenced Winter Storm Uri, as a point to not get variable plans and looked specifically for fixed. One participant misunderstood the solar plan in terms of an option during a similar outage.
Participants were forced to understand more about how their electricity worked. A product chart designed years prior would no longer be sufficient, as the hardships of hurricanes and the 2021 Winter Storm Uri forced them to learn about electricity.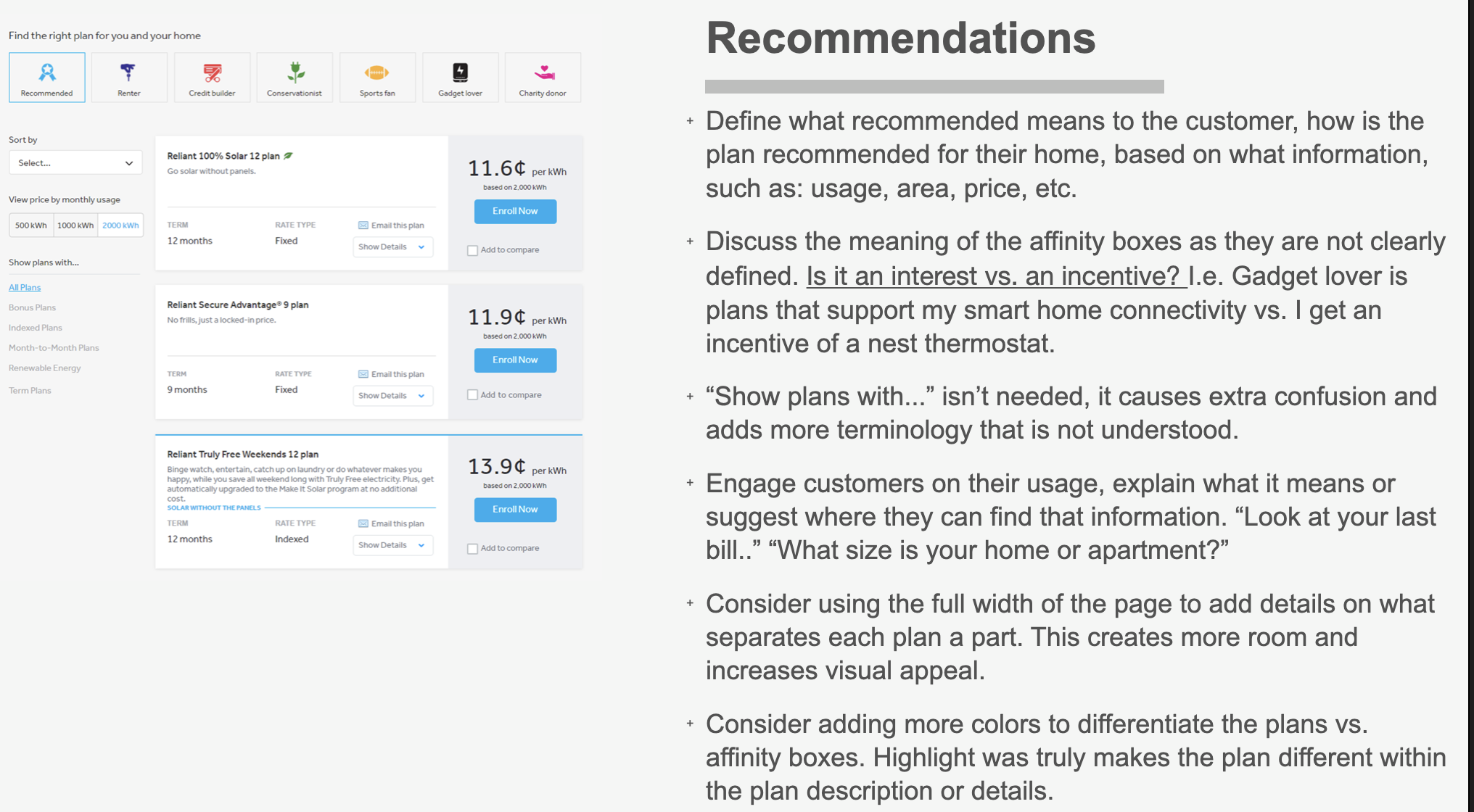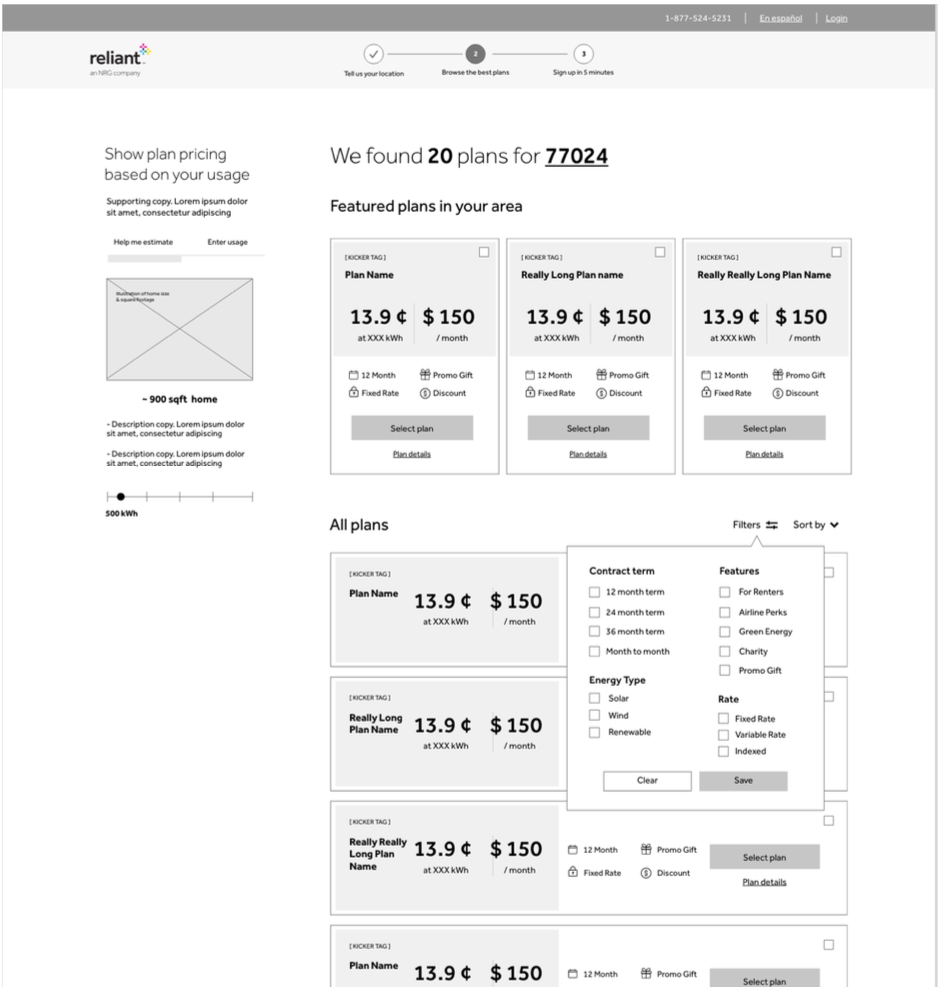 Building the future of product chart
By looking at past iterations and their recommendations, then testing the current iteration, a path emerged around several key themes:
Discoverability: Give the user control with simple
filtering options that are personable and relate to them, their home, and their needs.

Personalization: Offer compare and targeted product selections that "make sense" to the customer, avoid all jargon and clearly state the benefit and differences of each plan.

Education: Due to catastrophic circumstances, our customers became smarter and show should our products and content.
Other research conducted:
Baymard Assessment

EyeQuant Assessment

Competitive Analysis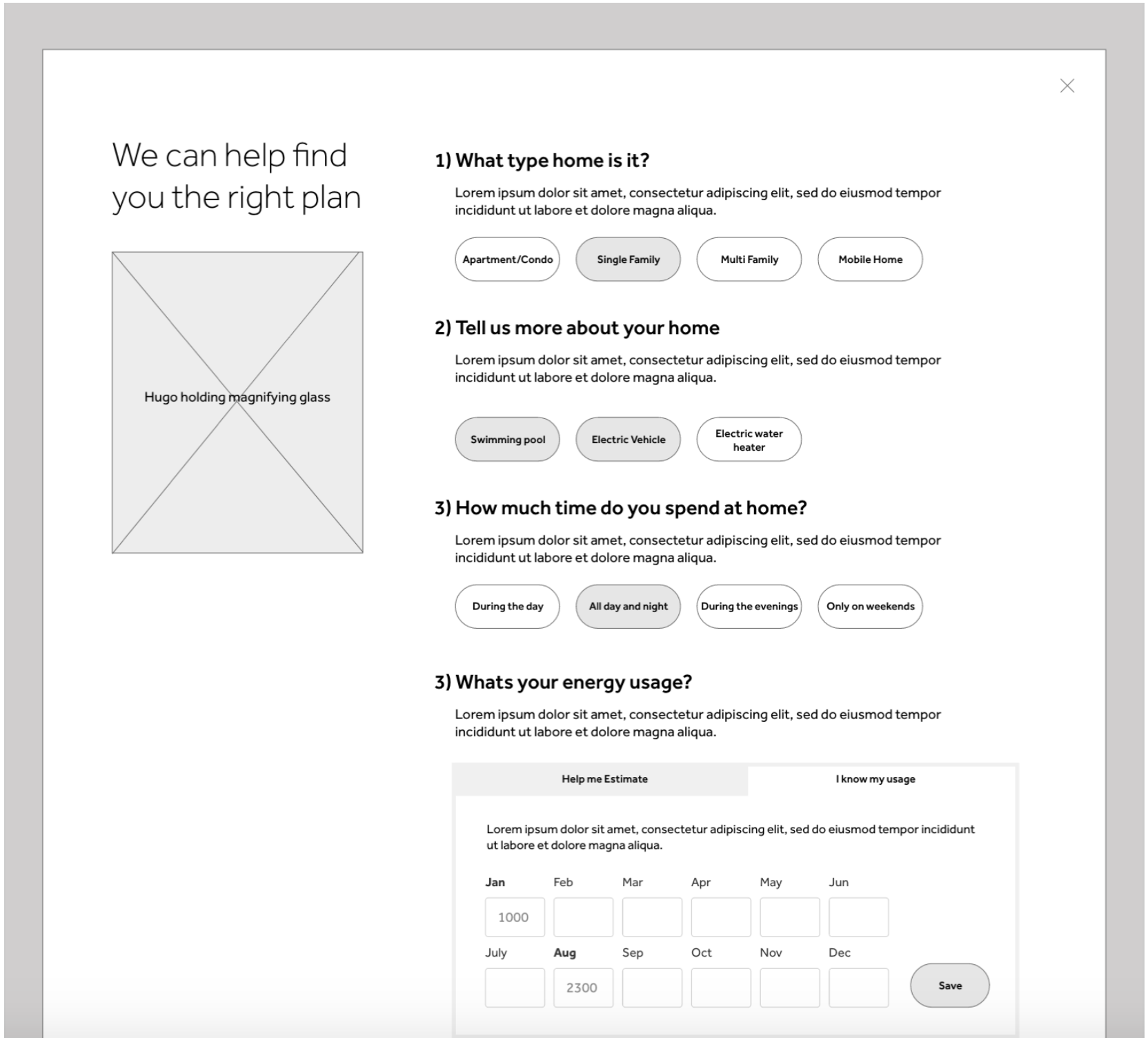 What we learned:
I was frustrated that we only testing desktop designs, as we identified that many low-income customers preferred to use their mobile phone to browse electricity plans. It was then decided that next steps would be:
Additional user testing current state on mobile and overall usability evaluation

User testing LoFi Desktop designs to validate assumptions and design research

Creation of mobile wireframes